Australia's efforts to help vaccinate citizens of low-income countries in the region have stalled due to recipient nations struggling with the logistics of administering doses, former health department secretary Jane Halton says.
While 96 per cent of Australians have had two doses of a COVID-19 vaccine, in low-income countries only 16 per cent of people have received a single dose and the international COVAX initiative to donate 2 billion doses to 146 countries is behind schedule.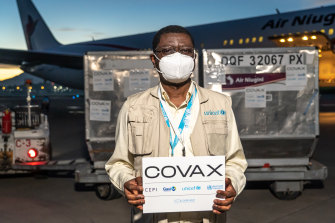 "A number of countries actually asked us to pause delivery," Halton, chair of the Coalition for Epidemic Preparedness Innovations and COVAX co-chair, said. "You need more functioning health systems to deliver those kinds of vaccines."
Australia, which used half a million doses from the COVAX stockpile of Pfizer vaccines for its local booster rollout, has contributed more than 40 million out of 60 million doses promised for the Indo-Pacific region.
The wider global COVAX initiative is 500,000 doses behind its target of distributing 2 billion doses.
Health Minister Mark Butler met with his G20 counterparts on Monday to discuss issues including the COVAX initiative, in which Australia is among 90 wealthy countries working to improve vaccine access globally.
"As a member of the global community Australia stands ready to help communities in our region and beyond," Butler said.
"We will continue to work with our Quad vaccine partners – India, Japan, and the US – to share doses where and when they are needed."
Martin Hensher, a professorial fellow at the Menzies Institute for Medical Research, said Australia should invest in non-profit vaccine development and manufacturing of doses for low-income neighbours, rather than relying on "monopolistic" pharmaceutical companies.