This means the turtle's best strategy for survival is to remain still, or bolt as soon as a shark notices them.
Stanford University marine biologist Dr Samantha Andrzejaczek, who co-authored the paper based on field trips from her time at the University of WA, said one of her conclusions was tiger sharks in the study area were exceptionally lazy.
This was because the shark might have to be careful not to expend too much energy since they environments they lived in might be nutrient-poor.
"One of their favourite places to hang out is the shallow sand flats," Andrzejaczek said.
"There's clear water and they don't have to move up and down that far.
"They're negatively buoyant, so they sink down and beat the tail to go back up.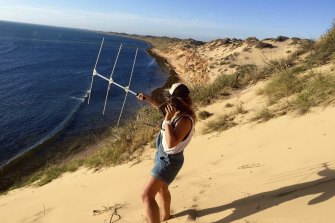 "They save energy any way they can … and it saves more energy to go down and up rather than stay at one level."
Tiger sharks are known as the garbage disposals of the sea, with car tyres having been found in their stomachs at times, but very little is known still about many aspects of their lives including migration and breeding habits.
Andrzejaczek said tiger sharks were misunderstood in WA and deserved more attention for being keystone predators which played a role in keeping reefs healthy.
"When we worked in Ningaloo … we'd catch the shark and bring them alongside the boat," she said.
"As we had them on the long side of the boat they didn't move, they're so docile and peaceful."
Tiger sharks have been involved in several fatal interactions in Queensland, but few in WA.
A tiger shark was initially identified as killing a man in Broome in 2020 before DNA testing revealed it was a bull shark.
Another man in his 40s was bitten on the arm by a suspected three-metre tiger shark last year also near Broome.
Andrzejaczek said most of the time tiger sharks in WA tried to avoid people and would take off when you came near them in the water.
Follow WAtoday on Instagram, LinkedIn, Facebook and Twitter for handpicked selections of the day's biggest local, national and international news.