The state government ditched several key elements of the Rozelle Parklands project recommended by its own expert working group, including an all-weather sporting field, tennis courts and street parking, leading to accusations the inner west has been short-changed.
But the government insists the rejected features would have been impossible without sacrificing other benefits in the 10-hectare site.
The parkland above the Rozelle Interchange is slated to become one of the largest green spaces in inner Sydney, and will compensate long-suffering locals for years of construction as the massive motorway junction is built.
While the government adopted most of the recommendations of the Rozelle Parklands Working Group, confidential documents show several items have been scrapped in the final designs announced by Premier Dominic Perrottet at an on-site press conference earlier this month.
The group – which was convened by Transport for NSW and reported to the transport minister – recommended a synthetic playing field to host year-round soccer, five-a-side soccer, Ultimate Frisbee, touch football and OzTag.
It recommended four multipurpose courts – two for tennis and two for basketball and netball – but only two will be built. The report also called for existing bike paths to be removed for car parking along the Lilyfield Road boundary.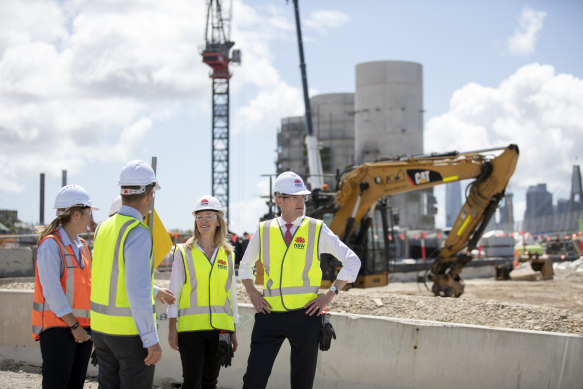 The high-level working group that made the recommendations included the Planning Department's executive director of public spaces, the executive director of the Office of Sport, Transport for NSW's executive director of community and place and several other government representatives, as well as three community members and two from the council.
The group met several times in the first half of 2021 and consulted NSW Rugby League, Hockey NSW, Little Athletics, the Wests Tigers and several other sporting organisations about optimal inclusions for the site, minutes show.