Pointsbet chief executive Sam Swanell says a $94 million cash injection from a global financial markets trading house will give the Aussie bookmaker a fighting chance to succeed in the lucrative US sports betting market.
Shares in PointsBet soared by 19 per cent to close at $2.55 on Monday after it announced it had secured fresh funding from US financial markets house Susquehanna International Group, which will now become its largest shareholder. "In SIG, we have found a strategic long-term partner who believes in points PointsBet's ability to continue to grow and compete in the North American sports betting market," Swanell said.
PointsBet recently knocked back an approach from a consortium led by Rupert Murdoch's News Corp. The stock traded above $15 last year as investors bet on its US market expansion, but the reality of rising losses and intense competition has hit home since then.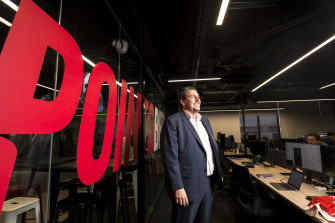 The deal will see SIG's Dublin-based sports trading operation, Nellie Analytics, offer PointsBet 's European operation access to its quantitative research while the two parties develop a longer-term deal.
"Nellie has built cutting edge quantitative models and technology to make markets for sports betting using trading acumen, advanced statistical forecasting models, and quantitative research. These models and technology currently allow Nellie to trade successfully on sports betting exchanges around the world," Swanell said.
"We believe Nellie can advance our existing capability (with) more accurate prices and sharper risk management," he said.
Swanell said this would allow PointsBet to develop more betting markets, in-play prices, faster bid placement, and, ultimately, higher wagering limits.
Ord Minnett analyst Phillip Chippindale said the SIG investment is "an impressive development from an astute investment group." The capital raising also helps bolster PointsBet's balance sheet at a critical time for the company, he said. "The sports gaming sector has been under pressure, alongside most other growth sectors, especially over calendar year 2022," Chippindale said.
In April, JP Morgan cautioned about high customer acquisition costs in the sports betting sector and its view that the industry structure favours a duopoly long term. But it estimates the US sports betting market could be worth $US13.5 billion by 2025.