"I relied on drinking to escape everything, to escape my reality. I was ashamed of who I was, what I'd done with my talent. I would just get drunk so I didn't have to think about anything, I'd let loose and that was it.
"It took a while to find myself, and that's where I found my faith. I grew up going to church, but I'd never participate, but when I was at my lowest there, that's where my faith came from."
Talakai's tattoos came in a cousins' garage as Penrith claimed a thrilling grand final win over his old Rabbitohs side, "because family and faith are the two pillars of my life and I'd wanted to do it for a while."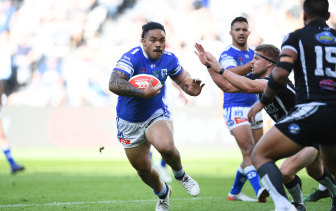 The bright red ink stands in stark contrast to Talakai's traditional Tongan arm sleeve, a nod to the other representative outing he and his family had figured on attending this weekend.
Loading
"We thought I was going to play for Tonga against the Kiwis, so I asked my Mum when she was going to New Zealand," Talakai says.
"I told her they can go to NZ but I'm going to Perth to play Origin. She didn't believe me, she was slapping me and giving it to me. But Mum and Dad, they're just happy for me.
"They've sacrificed a lot for me to be where I am and they've been with me the entire way. When I achieve something it's because of them and when I win, they win."
Watch the State of Origin exclusively live and free on Channel 9 and 9Now.