Establishment all-boys school Scotch College has again looked north to Sydney to select a new principal, but not before conducting a "forensic investigation" into his background after its earlier choice for the role put the school into damage control.
Scotch has appointed Dr Scott Marsh – the headmaster of an Anglican co-ed school on Sydney's fringe – six months after sacking its first choice for the role before he had even started.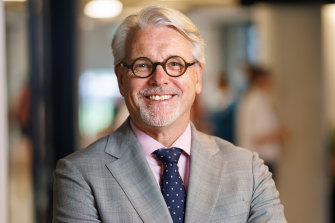 Marsh is headmaster of William Clarke College, a mid-fee private school in north-western Sydney, and has held senior roles at some of Sydney's most expensive private schools including The King's School, Parramatta and SCEGGS Redlands.
Scotch College chairman Alex Sloan said Marsh had beaten candidates from countries including Britain, the US, Canada and New Zealand, and had "an outstanding 30-year history of passionate commitment to education".
Marsh also satisfied a "forensic investigation" into his background, conducted by a third party, that was not done on the school's first choice for the role, Sloan said.
Loading
The 171-year-old college announced Matthew Leeds as only its 10th principal in November last year but sacked him in January after a whistleblower revealed a complaint was made against him in 2017 alleging misconduct when he worked at Geelong Grammar.
Leeds went on to work at Shore School in Sydney, which has defended him, noting that two separate investigations by Geelong Grammar and the Victorian Institute of Teaching did not substantiate the claims made against him.
Sloan has faced calls to resign as chair of the college board, with a number of disgruntled Scotch alumni alleging the botched initial appointment damaged the school's standing.