"It is not too late for [the Judith Neilson Institute] to step back from a destructive spiral."

Letter written by Bruce Shapiro
There are still three directors on the board: secretary Simon Freeman (who is the chief financial officer of Neilson's family office), private banker Edward Jewell-Tait and Ryan. However, multiple sources have confirmed Ryan has engaged lawyers to negotiate the terms of his exit. Ryan and Freeman declined to comment on the matter.
In an email to JNI staff, also obtained by this masthead, Freeman said Neilson had decided changes at the organisation were now "desirable."
"Judith's wish is that the Institute refocus its activities in a way that provides more proactive support for journalism that drives positive social change," Freeman wrote in his message to staff. "This may include an increased and more pragmatic focus than what is current on the development of journalism in youth, regional areas and migrant populations in Australia.
"It may also include, but not be limited to, a more direct and pragmatic focus on such areas as investigative journalism, photojournalism, grassroots media and enhancing access to quality journalism for those with diverse backgrounds."
Sources familiar with the conversations between Neilson and the independent directors, who spoke on the condition of anonymity, claimed one point of tension was the board's rejection of a proposal to form an international award, which was described as an Australian version of the Nobel Peace Prize and focused on ideas.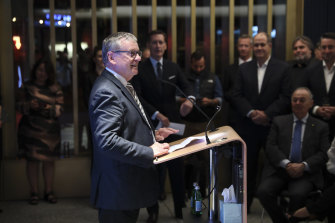 The JNI's director of ideas and board members worked on the proposal for more than a year and high-profile figures were approached to be judges. However, according to these sources, when a detailed proposal for the prize was submitted to Neilson she indicated no longer supported it.
Ryan's position at the JNI was another source of tensions, sources claimed. People within the organisation – and those advising it – are divided on whether to support him.
Some current and former staff believe Ryan's work for the Institute was valuable to the media sector, which went through a tumultuous period in 2020 as the coronavirus pandemic hit. But others believe the work of the organisation was inconsistent at times and staff were overpaid. Expenses in the 2021 financial year were $7.7 million – $2.6 million of which went on JNI staffing costs.
People familiar with Neilson's thinking said she believed the sector was now in a much better financial position thanks to media bargaining laws that led to multimillion-dollar deals between news companies and digital giants, Google and Meta. Freeman declined to comment on the matter.
Neilson committed $100 million to creating the institute in 2018. It was established as an independent and non-partisan body to encourage quality journalism through education, grants, and by hosting events on topical issues. The Sydney Morning Herald and The Age have both used funding from the institute for individual projects and to hire journalists.
The institute pledged to collaborate with university journalism schools and news organisations to improve reporting on the wider Asia-Pacific region, as well as debating key policy issues facing Australia.
A spokesperson for the Australian Charities and Not-for-Profits Commission said a charity is required to notify it of any change to its governing document and must align its work with purpose stated in it. The Institute also has Deductable Gift Recipient (DGR) status, which is usually awarded based on the purpose of an organisation.
The Business Briefing newsletter delivers major stories, exclusive coverage and expert opinion. Sign up to get it every weekday morning.