KUALA LUMPUR, Jan 25 – Tired of eating Chinese food this festive season? Take a break and hit this stall up for a satisfying plate of nasi lemak.
Find Nasi Lemak Motor hidden inside this food court located next to Hospital Kuala Lumpur. You will find it by the long queue right in front of the stall.
The name is a nod towards the owner's father who used to sell nasi lemak on a motorbike around the same area.
With a focused menu that centres around just rendang daging and sambal sotong, this cuts down time on deciding what you want. You also get a choice of fried egg sunny side up or hard boiled egg.
The crowd favourite is the 'sambal sotong' with a choice of fried egg or hard boiled egg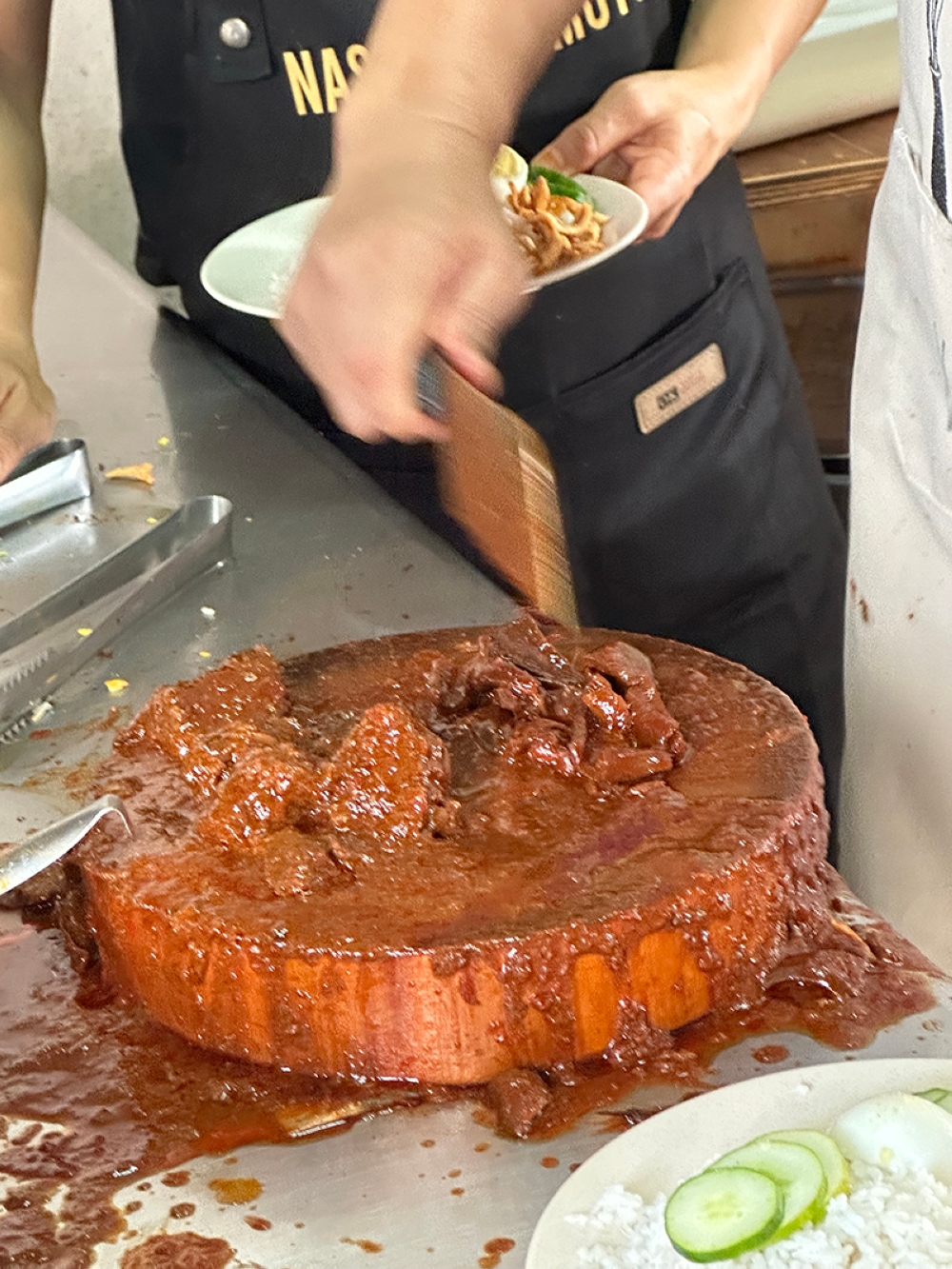 The meat or 'sotong' is cut into pieces before it's placed on top of the hot fluffy rice
The crowd favourite is their sambal sotong. The tender pieces drowned with a thick sambal is a winner. You won't miss the side sambal as the one served with the sotong is sufficient to satisfy your cravings.
The sambal is not overly spicy and has a nice balance of sweetness with a savoury hit.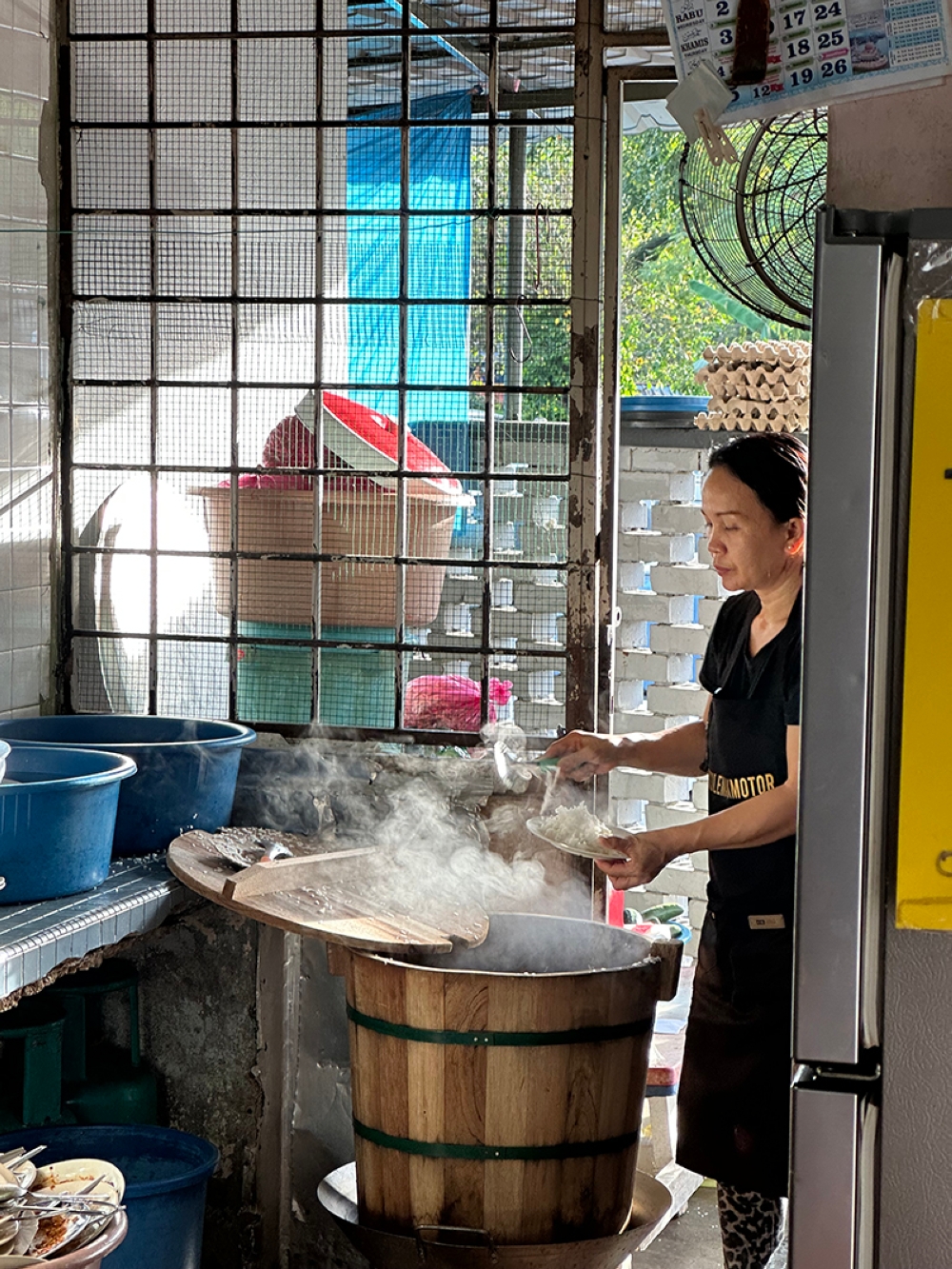 Fluffy rice with a light coconut milk taste is cooked in a traditional wooden bucket
It pairs so well with the light, fluffy rice grains infused with coconut milk. They keep the rice warm in a traditional wooden bucket so you get the fragrance of the coconut milk once you sit down and eat.
The rendang may be ranked second but it's just as yummy with meat that gently come apart with a fork. The gravy is slightly spicier compared to the sambal sotong. They make a smaller portion of the beef so try to come early, preferably before 9am to score this beef dish.
I missed it the first time so I had to return to try my luck. Try both of them for RM10 to get the best of both worlds. Believe me, it's a satisfying breakfast that surprisingly doesn't sit in the stomach like a rock.
If you prefer just the sambal sotong, it's RM7 for your plate.
They also just serve fried ikan bilis rather than the usual peanuts and ikan bilis combination. The ikan bilis is nice and crunchy, thanks to a light coating of batter. This is served with cut cucumbers.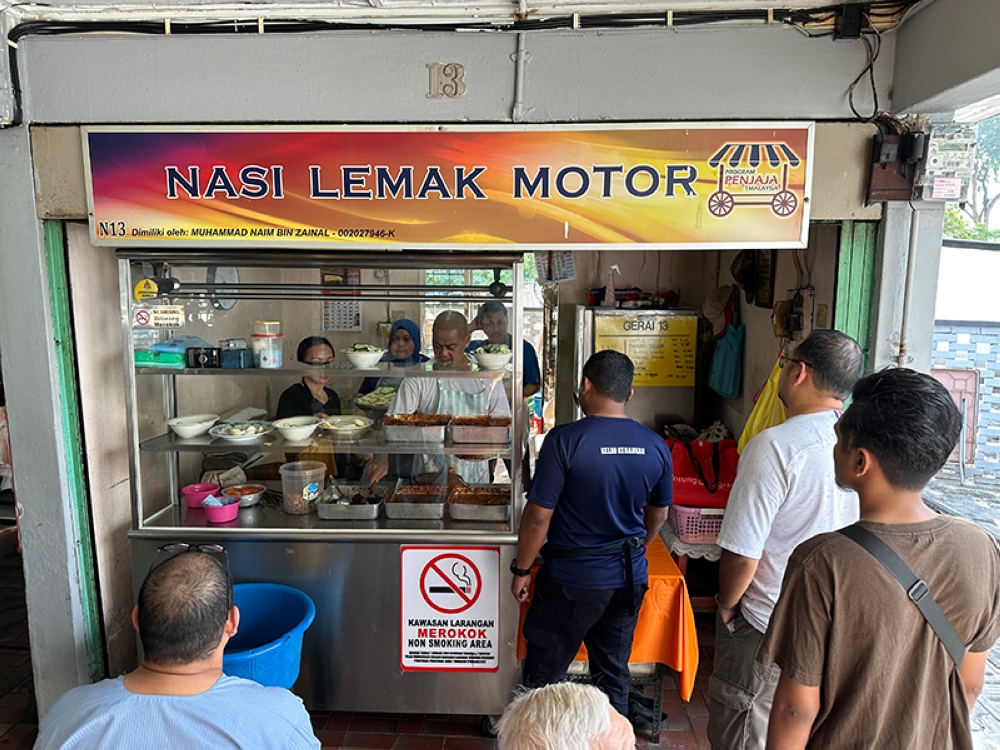 Expect to wait in line when you visit this stall as it's popular with visitors and workers from the hospital
The food court also goes by the nickname "Medan HKL" due to its proximity to Hospital Kuala Lumpur.
Nasi Lemak Motor, Gerai No. 13, Medan Selera Jalan Raja Muda Abdul Aziz, Jalan Raja Muda Abdul Aziz, Kampung Baru, Kuala Lumpur. Tel: +6016-3353884. Open: 6.30am to 11am (Tuesday to Saturday). Closed on Sunday and Monday.
* Follow us on Instagram @eatdrinkmm for more food gems
Sumber: https://www.afdrawing.com/news/eat-drink/2023/01/25/kick-off-your-day-with-satisfying-nasi-lemak-motor-at-kls-kampung-baru/51817