A judge has blasted media reporting of Brittany Higgins's rape accusation and a speech by television reporter Lisa Wilkinson at the Logies, warning in court that the distinction between allegations and a finding of guilt has been "obliterated".
ACT Supreme Court Chief Justice Lucy McCallum is considering whether to further delay the trial of Bruce Lehrmann, who is accused of raping former Liberal staffer Higgins in Parliament House 2019. He has pleaded not guilty.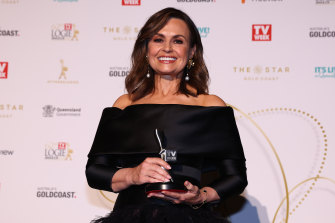 Lehrmann's barrister, Steve Whybrow, has asked for a temporary stay in the case to allow the publicity around Wilkinson's speech after she won a Logie for an interview she conducted with Higgins to dissipate. The trial is scheduled to start on Monday, June 27.
Prosecutor Shane Drumgold said there was no argument on his part as to the "undesirability of the media", but he argued it could be dealt with through the jury selection process and the judge's instructions to jurors.
"It could be put, you should put out of your mind everything you think you know about this case," Drumgold told the court. "The reporting in this matter, factually, is almost without exception wrong … almost without exception, contrary to the evidence that will be put to this courtroom."
Loading
McCallum noted Wilkinson's speech, in which the journalist said the Higgins story was "by far the most important work I have ever done", came after stern warnings from the court and the prosecutor to the Ten Network reporter and media generally about commenting on the matter before it went to trial.
"What concerns me most about this recent round is the distinction between an allegation and a finding of guilt has been obliterated," the judge said. "It's sort of a crowing of the success of good investigative journalism."
McCallum said she was very concerned and agreed it might be "the safest course to defer the trial until some of this dies down".