The Queensland government will impose a new levy on big business to generate an ongoing funding source for mental health services in the state, expected to deliver an annual windfall of $425 million within three years.
Big retailers such as Woolworths and Coles, mining companies, and major construction firms are expected to contribute the most from their bottom lines to fund a five-year $1.6 billion mental health spend.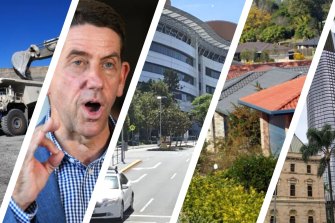 The staged rollout of yet-to-be detailed mental health service beds — including for perinatal and eating disorders — 1400 new staff and capital investments through the program will form part of the state's broader health budget, worth $23.6 billion in the coming financial year.
A recent parliamentary committee inquiry into mental health had urged the government to increase funding and expenditure for mental health and drug and alcohol services, and create a dedicated funding stream, after finding the state reported the lowest national per capita spend in 2019-20.
The budget papers include a new five-year plan for the sector with $1.64 billion in operating funding, slated for new mental health service beds — including for perinatal and eating disorders —and an extra $28.5 capital investment.
"But in order to deliver this funding, we must have a sustainable funding model," Treasurer Cameron Dick told parliament in his budget speech. This will come alongside a huge revenue windfall this year and a further planned lift to coal royalties as prices and profits soar.
To do this, the government will introduce new payroll tax levies for some businesses, which from 2023 will pay 0.25 per cent on the portion an annual taxable wage bill of more than $10 million, and an additional 0.5 per cent on the portion of those wages bills of more than $100 million.
Treasury estimates the levy would apply to about one per cent of all businesses in the state, scaling up to generate an annual $425 million by 2025-26. While Woolworths and Coles have recently reported rising sales figures, these have been partially offset by the tandem costs of inflation.
"I do not think one single person will be critical of large companies using 1 per cent [of their budgets] to actually help to help people who are going through the worst of the worst from a pandemic," Premier Annastacia Palaszczuk told reporters in the budget lockup press conference.