The Australian remains are among thousands of scalps, shrunken heads, mummies, flutes made of bones and other human remains in German anthropological museums and university collections.
Many ended up halfway across the world courtesy of grave looters who on sold them to 19th-century explorers and "race researchers".
Between 1876 and 1902, they were purchased and donated to the Royal Zoological and Anthropological-Ethnographic Museum, the predecessor of the Dresden Museum of Ethnology, which is part of the State Ethnographic Collections of Saxony.
In 2019 culture ministers from Germany's 16 states identified the return of human remains as a priority and set new guidelines on handling objects taken from former colonies.
Since 2013, German collecting institutions have returned 155 ancestors to Australia. This is the third group from the State Ethnographic Collections. It returned 38 ancestors in April 2019, and 45 in November that same year.
More than 1650 ancestors – mainly from Britain – have been returned to Australia from institutions and private collection of nine countries since 1990.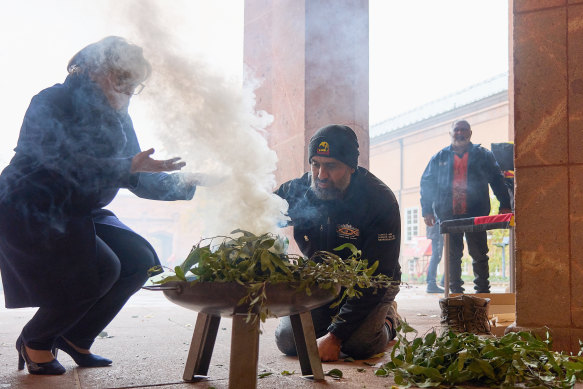 Nathan Moran, the chief executive of Sydney-based Metropolitan Local Aboriginal Land Council and a Biripi Dhungutti Goori man, said repatriation was the "closure of sorry business".
" We were not treated as human beings. We were never respected as equals," he said. "It provides closure and allows us to heal, and more importantly, to feel as human beings."
Loading
Marion Ackermann, the director general of the Dresden State Art Collections, said the return was fundamental to the process of reconciliation in the face of colonial transgressions. In Germany, after the horrors of the early 20th century, this crime has extra resonance.
"Welcoming the descendants of the deceased into the museum allows us to help shape a process of healing and repairing relationships long marked by colonial violence," she said.
"We are committed to ensuring that the last deceased who are in Saxon ethnological museums can return to Australia if their descendants so wish."
Susan Templeman, a federal NSW Labor MP and Prime Minister Anthony Albanese's special envoy for the arts, accompanied the group to Germany. She says the cutting of cultural ties had created "profound and ongoing pain".
"In the 19th and early 20th century, the remains of many First Nations Australians were separated from their Country and sent to museum collections overseas," she said. "In bringing these ancestors home, we strive to show them the dignity and respect that they were denied in being taken away from Country."
Get a note directly from our foreign correspondents on what's making headlines around the world. Sign up for the weekly What in the World newsletter here.